Anchor Garden 2
Download
(Note: We provide JAR files because Java Web Start was deprecated.
We propose ``Anchor Garden,'' a workbench software to learn fundamentals of data structure with concepts of type, variable, object, and its relations in a strongly-typed object oriented programming language such as Java and C\#. Learners can approach the concepts by a direct manipulation of graphical models. Anchor Garden (AG) allows the learners to create variables and objects, and to link among them. Since AG automatically generates source-code corresponding to the learner's manipulations, the learner can relate manipulations and representations of source code. Experimental result showed a positive tendency of learning effect with AG, and high correlations between the concept understanding and programming ability. Thus AG has a possibility to enhance the programming ability for novice programmers.
Usage
Press one of the "Type" to select.
Left-Click on [Variable] area. Variable of the selected type is created.
Left-Click on [Object] area. Object of the selected type will be created. (for Class/Array)
The objects created will disappear unless linked from variables.
The objects will also disappear when all incoming link is lost.
The type matching is necessary to link from variables to objects.
When the user rotates mouse wheel, AG zooms in to the cursor place.
The user can zoom in to the specified region by right-dragging.
[ESC] key to initialize view.
[Extra]=>[Source Code] menu shows the source code window.
The user can specify variable names, array sizes and initial string by disable [Extra]=>[Automatic].
Scapshot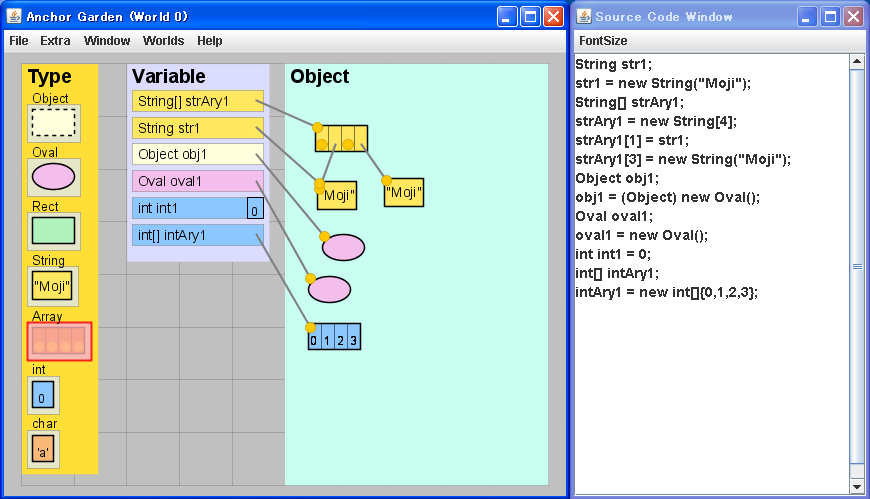 Source Code
The Eclipse project depends on Piccolo2D.
Papers
Motoki Miura, Taro Sugihara, Susumu Kunifuji: Anchor Garden: An Interactive Workbench for Basic Data Concept Learning in Object Oriented Programming Languages, Proceedings of 14th ACM–SIGCSE Annual Conference on Innovation and Technology in Computer Science Education (ITiCSE2009), Paris, pp. 141-145, July 2009. (info)
---